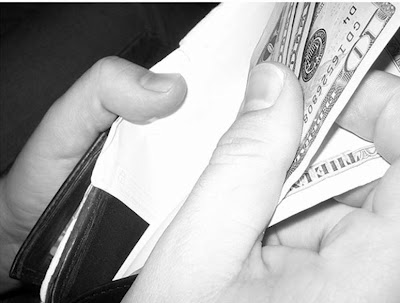 By way of the always excellent Norman Miller of the Metrowest Daily News I learned about the case against Shannon St. Laurent. Ms. St. Laurent is alleged to have gotten ahold of a friend's identification and ATM card. According to the article she then went to the bank and tried to witdraw $20,00 from the account.
Because she tried to take out so much money the bank became suspicious and only gave her a fraction of the money. When she returned later to pick up the rest of the money she was met by police and arrested for forgery, uttering, and felony larceny charges. At some point she apparently chose to speak with the police and told them that she intended to buy a car with the money.
Ms St. Laurent is certainly in trouble at this point. She has serious charges pending against her, and whether she is guilty or not she did not do herself any favors when she skipped her scheduled arraignment date earlier this month. Although the article doesn't go into details, it is likely she was released from police custody after being arrested on either her promise to appear in court, or on a small bail. When someone is released from the police station in those circumstances they are given paperwork with a court date to appear for an arraignment. At an arraignment in court the prosecutor can choose to ask for a higher bail than was set at the police station, or they can agree to leave the bail the same.
In Massachusetts the purpose of bail is to ensure that someone will appear in court and answer on the charges they are facing. If Ms. St. Laurent had an otherwise clean record and reported to court when she should have, she would have been almost assured to receive a reasonable bail at arraignment. Its even possible she may have been allowed free without posting any money at all in court. However now that she refused to appear on her arraignment date, she may be required to post a high bail when she is eventually arraigned. As a result of skipping her arraignment a warrant is now out for her arrest and she can be arrested by any police officer that she might come into contact with.
When prosecutors consider whether or not to ask for a high amount of bail on a particular defendant they look at a number of factors. Probably the most important factor is whether or not the individual has a history of missing court. Most often the prosecutor will look at a defendant's criminal record to see when they have missed court in the past on other cases. In her case Ms. St. Laurent has made the bail argument easier for the prosecutor. Even if there are no past defaults because she avoided court on her arraignment date the prosecutor will have a strong argument that a higher bail is necessary in order to assure that she will come back and appear on the future court dates.
Ms. St. Laurent's best move at this point would be to retain an experienced criminal defense attorney and to go back to the court voluntarily as soon as possible. If she turns herself in and can explain her absence to the court, she will have a better chance of the judge assessing a lower bail, especially if she does not have a history of missing court in the past. However, if she is arrested on the warrant and only comes before the court because she was held by the police it will be significantly harder to convince a judge that she will come back to court voluntarily.

If you are facing larceny or forgery charges contact me immediately for a free consultation. As an experienced Natick criminal defense lawyer I can help you evaluate your case and determine the best way to fight the charges against you. If you have a warrant out for your arrest and are apprehensive about returning to court I can help. I have successfully helped clients clear warrants on criminal matters without any bail being assessed, and have even helped out of state clients remove warrants without physically having to return to Massachusetts. At a free consultation you will never be presented with high pressure sales tactics. Instead you will get an honest thorough evaluation of your case, and a guarantee that you will never pay more than the initial price quote on your case. Contact me today at (508) 762-4540