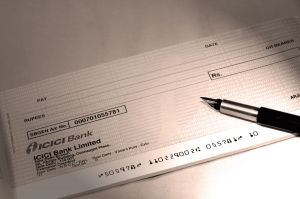 Two men – a 40 year old and a 19 year old – were arrested a little after 6 p.m. on Tuesday, November 19 as they were leaving the automotive department at Sears, according to an article in the MetroWest Daily News. The men allegedly used a fake check to buy goods at Sears and later attempted to return the items for money.
Police arrested both of the men and charged them with conspiracy to commit a crime and larceny of more than $250 by a scheme. The 19 year old was also charged with uttering, or passing, a false check.
The 19 year old pleaded not guilty at his arraignment on Wednesday at the Framingham District Court. He posted $100 bail after his arrest, and the amount was not increased at his arraignment. The 40 year old was sent to the hospital for a three-day mental evaluation. He is due in Court on Dec. 13. The 19 year old is due back in court on Jan. 2 for a pretrial conference.
This case seems to rely heavily on eyewitness identification and reporting. Police first responded to Sears around 2 p.m. after receiving a report of a bad check being used. The men were allegedly seen on a security tape gathering a tool and car battery and then buying the items. The two items reportedly cost approximately $340.
A few hours later, the men allegedly went back to Sears and tried to return the battery. A store employee reportedly recognized the men and called police who responded and arrested the men.
The men are facing charges that could potentially result in jail time, fines, community service, or probation. Larceny of property exceeding $250 is a felony in Massachusetts and is punishable by up to five years in prison. It is unclear from the article whether the men have prior criminal convictions. Based on the 19 year old's low bail amount, it is unlikely that he has a lengthy criminal record. The men's criminal records could play an important role in their cases. Prior convictions for theft could result in their receving harsher punishments if convicted of these charges.
In order to prevail on the charges against the men, prosecutors will have to prove that they took and carried away the property, that the property was owned by another, and that they intended to deprive the owner of the property permanently. Additionally, the 19 year old is facing a charge of passing a false check. Prosecutors will have to prove that the he wrote, cashed, passed or delivered a bad check; that he obtained money, property, or services as a result of delivering the bad check; that when he wrote the check, he did not have sufficient funds in the bank to cover the check; and that he did this with the intent to defraud the bank or the person who received the check. A bounced check is prima facie evidence of intent to defraud and of knowledge of insufficient funds. An exception to this rule occurs when funds sufficient to cover the check are deposited within two days of receiving notice of insufficient funds from the bank.
The article makes it clear that the 40 year old man is undergoing an evaluation of his mental status. However, the article does not state whether his attorney is going to use his mental state as a defense or how his mental state will come into play in his case.

The men need experienced criminal attorneys to fight for their rights and protect their records. If you or a loved one has been charged with a theft crime, contact Attorney Cappetta today to schedule a free consultation.