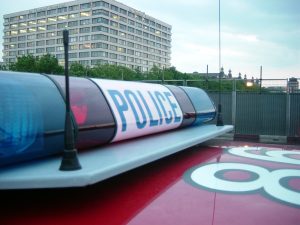 In Commonwealth v. Goncalves-Mendez, the Supreme Judicial Court affirmed the allowance of the defendant's motion to suppress, because the impoundment of his vehicle was unreasonable in light of his "passenger's availability to drive and the failure by police to ask the defendant whether the passenger taking custody of the vehicle would be a preferred alternative."
The basic facts were as follows. "[T]wo Boston police officers on patrol in a marked police cruiser observed a Honda Accord [being driven] with what appeared to be a defective brake light…. From the vehicle's registration number, the officers discovered that its registered owner, the defendant, had an outstanding misdemeanor default warrant…. The officers then stopped the vehicle…. The defendant was the driver of the vehicle, and he was accompanied by one front seat passenger. The officers asked both the defendant and his passenger for identification. Upon conducting computer checks on the information provided, the officers learned that the passenger's driver's license was valid, he had no outstanding warrants, and he was not a suspect in any other crimes; further, he did not appear to be under the influence of any intoxicating substances. The passenger was polite and cooperative with police. One of the officers informed the defendant that, due to the default warrant, he was under arrest, and his vehicle would be towed. The officers ordered both men out of the vehicle. The defendant did not request that his passenger assume custody of the vehicle, and the officer did not offer this alternative. As required by Boston Police Department policy, in preparation for impoundment, one of the officers [conducted an inventory search of] the vehicle. The officer found a firearm under the driver's seat…. [T]he defendant said that the firearm was his. The defendant was taken to the police station in a police cruiser…. The passenger … was allowed to leave the scene."
After the issuance of a complaint charging the defendant with multiple firearm violations, he filed a motion to suppress the evidence seized during the inventory search, as well as his subsequent statements to police, "on the ground that both were fruits of an unlawful search." A judge allowed the motion and the Commonwealth filed an interlocutory appeal.
In its decision in favor of the defendant, the SJC noted that "'[a] lawful inventory search is contingent on the propriety of the impoundment of the [vehicle].' [Commonwealth v. Oliveira, 474 Mass. 10, 13 (2016),]…. [A]t issue here is whether impoundment was 'reasonably necessary.' Oliveira [] at 14. The propriety of an impoundment turns on whether police reasonably could have concluded they had no lawful, practical alternative." Here, the judge properly found "that the officers were aware that the defendant's passenger lawfully could have assumed custody of the vehicle, yet nonetheless told the defendant that his vehicle 'would be towed.' The judge also found that police did not consider the alternatives to impoundment available under the [Boston Police Department's] motor vehicle inventory policy. One option enumerated in the policy when officers arrest a driver is to 'leave [the vehicle] with a person having apparent authority to assume control of it.'…. Unlike when a vehicle is impounded, no inventory search is conducted in those circumstances, because there is no risk of false claims against the police or the towing company." The SJC "conclude[d] that, where [as here] officers are aware that a passenger lawfully could assume custody of a vehicle, it is improper to impound the vehicle without first offering this option to the driver. Absent such an inquiry, the police cannot conclude that impoundment is 'reasonably necessary.' Because no such inquiry was made here, the impoundment of the defendant's vehicle was improper. [Therefore,] because the validity of an inventory search turns on the propriety of the underlying impoundment, the search was unlawful."
Impounding a vehicle and using that as an excuse to conduct an inventory search is a common way for police to claim that they have a lawful basis to enter and search a car. As this case shows, however, there are limits to this claim of lawfulness. If you or a loved one is facing criminal charges because of a search similar to the one conducted in this case, you may well have an argument that any evidence recovered as a result of the search should be suppressed. Attorney Daniel Cappetta has successfully represented clients at motion to suppress hearings many times. Put his expertise to work for you and call him for a free consultation today.