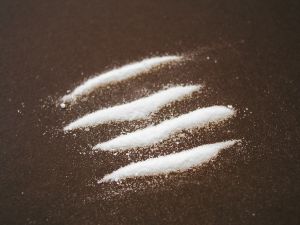 A recent news article states that a man from Marlborough was arrested on Thursday on charges of possession of cocaine with intent to distribute, possession of cocaine, possession of marijuana with intent to distribute and two counts of a drug violation in a school zone, as well as conspiracy to violate Massachusetts's drug laws. The man allegedly told police after he was arrested that he picks up as much as 2 ounces of cocaine per week to sell in Marlborough; police further allege that he admitted to selling marijuana while being questioned at the time of his arrest.  The man allegedly told police that he sells drugs to support his son.
Marlborough Police, state police with search dogs and agents of the U.S. Bureau of Alcohol, Tobacco, Firearms and Explosives reportedly went to the man's home at approximately 11:15 a.m. Thursday with a search warrant. Police reportedly conducted surveillance and handcuffed the man after he came outside to his car. Police then reportedly searched his home. Police allege that they found packaged marijuana and several thousands of dollars in cash in the man's home, located at 21 Preston St. in Marlborough. Police also allege that they found two digital scales, often used for weighing drugs, with white residue that tested positive as cocaine. The man's home is located near a day care center, which is why he is facing a drug violation in a school zone.
The man posted and was released on $250 bail Thursday, according to record. However, when he allegedly failed to appear in court on Friday for his arraignment, a warrant was issued for his arrest.
The man reportedly has three other open cases at this time, including a charge of possession of a class B substance with intent to distribute in Lawrence District Court, breaking and entering in the daytime with intent to commit a felony, and knowingly receiving stolen property. Most of the charges he faces are felonies.
The man is facing jail time if he is convicted of the crimes with which he is charged. Since he is charged with intent to sell cocaine in a school zone, he is facing a mandatory minimum two years of time in a house of corrections, even if this is his first offense. Additionally, that sentence will have to be served consecutively after any jail time he receives from the underlying charge of possession with intent to distribute. This rule means that he would have to serve the two years for being in a school zone after he serves his time for possession with intent to distribute. Since the man has other open charges, as well, he could be facing even more jail time if convicted of those charges.
The possession with intent to distribute in a school zone laws in Massachusetts are quite severe. A person can be convicted of a drug violation in a school zone if they are found committing the underlying drug crime within 300 feet of a school or 100 feet of a public park or playground between the hours of 5:00 a.m. and 12:00 a.m. You can be charged with this crime even if you are in your own home at the time of your arrest if your home is located near a school. Because the laws require a mandatory two year sentence if you are found within a school zone, the District Attorney's Office has significant leverage in any plea negotiations that may occur in the case.
Additionally, failing to appear in court can have ramifications in the future if you end up being arrested again. Judges are hesitant to release defendants on personal recognizance or low bail amounts if the defendant has a history of failing to appear in court, even when that defendant has only been arrested and failed to appear one time. Failing to appear in court after an arrest is called a "default," and every default makes it more likely that your bail amount will be higher the next time you are arrested.

If you have been charged with possession with intent to distribute in a school zone, you need a Massachusetts drug crimes lawyer on your side. Attorney Cappetta is an experienced and skilled Massachusetts drug crimes lawyer who can help you figure out your best options if you are facing this serious charge.