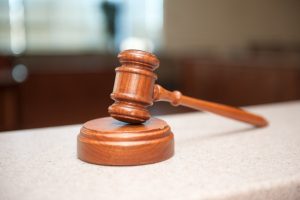 The United States Supreme Court reversed a judgment of the Court of Appeals for the District of Columbia Circuit in Class v. United States. The U.S. Supreme Court specifically ruled that in pleading guilty, the defendant, Class, did not waive his right to a direct appeal on the ground that the statute of conviction was unconstitutional.
The background was as follows. "Class pleaded guilty [in Federal District Court] to 'Possession of a Firearm on U. S. Capitol Grounds, in violation of 40 U. S. C. §5104(e).'" A written "agreement set forth the terms of [the] guilty plea, including several categories of rights that [Class] expressly agreed to waive. Those express waivers included: (1) all defenses based upon the statute of limitations; (2) several specified trial rights; (3) the right to appeal a sentence at or below the judicially determined, maximum sentencing guideline range; (4) most collateral attacks on the conviction and sentence; and (5) various rights to request or receive information concerning the investigation and prosecution of his criminal case…. At the same time, the plea agreement expressly enumerated categories of claims that Class could raise on appeal, including claims based upon (1) newly discovered evidence; (2) ineffective assistance of counsel; and (3) certain statutes providing for sentence reductions…. Finally, the plea agreement stated under the heading 'Complete Agreement': 'No agreements, promises, understandings, or representations have been made by the parties or their counsel other than those contained in writing herein, nor will any such agreements … be made unless committed to writing and signed.'…. The agreement said nothing about the right to raise on direct appeal a claim that the statute of conviction was unconstitutional." Subsequently, Class filed an appeal in the D. C. Circuit, claiming that 40 U. S. C. §5104(e) "violates the Second Amendment and the Due Process Clause because it fails to give fair notice of which areas fall within the Capitol Grounds where firearms are banned. The [D. C. Circuit] held that Class could not raise his constitutional claims because, by pleading guilty, he had waived them." Class sought certiorari on the question "whether a guilty plea by itself bars a federal criminal defendant from challenging the constitutionality of the statute of conviction on direct appeal."
In its decision, the Supreme Court opined that "Class did not relinquish his right to appeal … by pleading guilty…. [T]his holding flows directly from this Court's prior decisions," including Blackledge v. Perry, 417 U. S. 21 (1974); Menna v. New York, 423 U. S. 61 (1975); and United States v. Broce, 488 U. S. 563 (1989). The Court noted that "Class' challenge does not in any way deny that he engaged in the conduct to which he admitted." Rather, his claims "challenge the Government's power to criminalize [his] conduct. They thereby call into question the Government's power to '"constitutionally prosecute"' Broce[] at 575 (quoting Menna[] at 61-62, n.2). A guilty plea does not bar a direct appeal in these circumstances."
Although winning an appeal after a conviction tends to be an uphill battle, having an attorney who will stick with the case is of the utmost importance. If you or a loved one has a case that is ripe for appeal, you will need a skilled attorney to fight to overturn your conviction. Attorney Daniel Cappetta is dedicated to his clients, has filed appeals on numerous grounds, and has obtained the right results for his clients. Call him for a consultation.