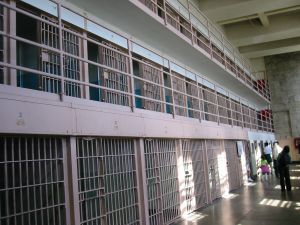 Norman Miller of the MertroWest Daily News reports the story of Alexander Logan of 65 Cherry Street, Ashland, MA. According to the article members of the Massachusetts Internet Crimes Against Children Task Force (which usually consists of the State Police working in conjunction with local law enforcement and the Attorney General's Office) were able to identify child pornography that was being traded on a file sharing network.
The article doesn't say how the police were able to track down Mr. Logan, but in the majority of these cases the police are able to obtain the IP address of the person using the file sharing network. Once police have the IP address they either get a search warrant or subpoena for the records of internet service provider associated with the IP address. From the internet service provider they get the subscriber name and address that was using that particular IP address at the time it was observed to be downloading child pornography. From there, all police need to do is get a search warrant for that address and go knock on the door. (as an aside, just a tip to regular readers, make sure to always password protect your wireless router otherwise someone can pirate your wireless signal, if someone does and downloads child pornography you can get an unpleasant knock on your door)
According to the article the police found over 3,000 images and videos of child pornography in the home. Police also indicated they seized 15 different electronic devices, and have not finished searching those items.
As of now Alexander Logan is charged with possession of child pornography. Possession of child pornography is certainly a serious charge in and of itself. The maximum penalty for possession of child pornography in Massachusetts is 5 years in state prison. Any conviction for possession of child pornography requires the defendant to register as a sex offender, regardless of whether or not he or she is sentenced to jail time.
As serious as Mr. Logan's case is already, he will face significantly increased penalties if prosecutors bring new charges of dissemination of child pornography. The article state prosecutors may pursue the dissemination charge because Mr. Logan admitted that others had downloaded some of the images remotely from his computer. Any defendant convicted of dissemination of child pornography faces a minimum sentence of 10 years in state prison and can be sentenced to as many as 20 years in state prison. In addition there is also a requirement that the defendant register as a sex offender.
In cases like these often times the most important question in the case relates to the police procedure used in the investigation. Prosecutors must show a court that the police followed proper procedures in obtaining information and searching the home of Mr. Logan. If Mr. Logan's constitutional rights were violated in the search of his home there is potential the evidence against him could be suppressed.

If you or a loved one have been charged with any crime related to child pornography you need the help of Framingham sex crimes attorney immediately. As a Framingham criminal defense lawyer I have helped clients in the Framingham area fight for their rights, protect their liberty, and their future. I offer a free consultation with all potential clients. At a free consultation you will receive an in depth evaluation of your case, as well as my thoughts on the best strategy to fight on your behalf. There are never any high pressure sales tactics in a free consultation, rather you get my open honest assessment of your situation, and the opportunity to ask your own questions. At the consultation I will quote you a price to handle the case, and that quote is a guarantee. You will never pay more than the initial quote. Call today at 508-762-4540 or contact me using the form on this website.