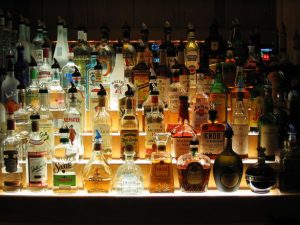 In a recent decision, Commonwealth v. Dayton, the Supreme Judicial Court responded to a reported question: whether, under G.L. c.276, §58A, a defendant who is charged with OUI third offense, must have three prior OUI convictions before he can be subjected to pretrial detention without bail under the statute.
The background was as follows. "[T]he defendant … was charged in the Superior Court with [several] motor vehicle violations, including two indictments for OUI, third offense…. Each OUI indictment alleged that [the defendant] had been convicted of OUI twice before — in 1988 and in 1989. The Commonwealth moved for a dangerousness hearing pursuant to §58A. This statute specifically allows the Commonwealth to move for a "dangerousness hearing" where a defendant is held "under arrest" and charged with a felony that involves, among other qualifying factors, a third or subsequent conviction for a violation of section 24 of chapter 90 – the OUI statute. During the hearing, the court must make a determination as to whether the defendant is in fact "dangerous" under the statute – i.e., that no conditions of release will reasonably assure the safety of any other person or the community. In the event that the defendant is found to be dangerous, the court may elect to release him with certain conditions. Alternatively, the court may determine that even the imposition of conditions would be insufficient to ensure the safety of another person or the community, and therefore order the defendant to be held without bail for up to 120 days.
The defendant opposed the motion, arguing that §58A permits a dangerousness hearing only after three prior OUI convictions, not two." "After [a] hearing, the judge determined that the defendant was dangerous within the meaning of §58A and ordered him held without bail pending trial. On the defendant's motion, the judge reported the following question …: 'Whether a defendant with two prior convictions for [OUI], pursuant to G.L. c.90, [§24(1)(a)(1)], who is arrested and charged with [OUI], [t]hird [o]ffense, may be held without the right to bail pursuant to G.L. c.276, [§58A(1)].'"
In its decision, the SJC answered the reported question in the negative. The Court noted the ambiguity of "[t]he OUI clause of §58A[,] [which] provides … that the Commonwealth may seek detention based on dangerousness when a defendant is 'arrested and charged with … a third or subsequent conviction for a violation of [G.L. c.90, §24].'" The Court stated, "[W]e do not know what it means to be 'arrested and charged with' a 'conviction.'…. This formulation is at war with itself. Although it hardly needs explication, being 'arrested' and 'charged' with a crime is wholly distinct from a 'conviction' for that crime…. Given this ambiguity, we interpret §58A [pursuant to the rule of lenity] as requiring three, not two, prior OUI convictions."
Being held pursuant to a finding of dangerous has an extremely significant impact on an individual because it may result in a 120 day detention. Such a detention not only potentially disrupts a person's housing, employment, and personal relationships, but may also induce a defendant to plead guilty simply to get out of custody even when a case is defensible. Investigation, making sound strategic decisions, and mounting the best possible defense to avoid such a detention may make all the difference. If you or a loved one has been charged with a new crime and are facing a dangerousness hearing, you will need a skilled and experienced attorney to fight for your liberty. Attorney Daniel Cappetta has successfully conducted many dangerousness hearings and always makes sure that his clients get the best defense possible. Call him for a free consultation today.