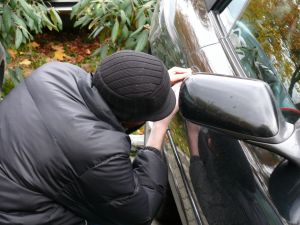 A 35 year old man from Asland, was arrested on Wednesday, April 17th for allegedly stealing a lighter and some change from a car that was parked in a Shaw's parking lot, according to an article in the MetroWest Daily News. Officers reportedly arrived at the Shaw's parking lot in the Pond Street Plaza before noon for a report of a fight. Upon arrival, officers allegedly witnessed several men fighting with the defendant, who was being held by two other men. The men then reportedly told officers that they had witnessed the defendant going into multiple cars in the parking lot, including a Ford pickup truck belonging to one of the men. The men reportedly also stated that when they approached the defendant, he fled across the street, and they caught him and brought him back to the Shaw's parking lot. The owner of the truck reportedly claimed a white cigarette lighter and some loose change from the center console was missing after the incident. An officer then allegedly frisked the defendant and found the missing items on him.
The defendant was reportedly arrested and charged with breaking and entering a motor vehicle, a misdemeanor, and larceny under $250, also a misdemeanor. He was released without bail on Thursday at Framingham District Court. The defendant was ordered to return to court for a pretrial conference on June 14.
The defendant is facing two misdemeanor charges. Many people may assume that misdemeanor charges will not lead to severe penalties like a felony can. However, the defendant may still be facing serious penalties, particularly if he has a record with other charges or convictions in it. If he has a record with other offenses on it, his punishment for this offense may be more severe than if this is his first time being charged with a crime. That being said, the defendant can still have a favorable outcome in this case and may avoid jail time. The amount of money and goods taken in this case was relatively minor, which is helpful to him.
The defendant may come away from this situation with only minor penalties if he has an experienced Massachusetts criminal defense attorney on his side. In this case, the crimes are economic crimes, rather than violent crimes. Courts can be convinced to look more favorably on defendants who are committing non-violent crimes motivated by economic need if the arguments are framed in a sincere manner and the defendant is determined to refrain from committing further crimes. Additionally, a skilled attorney may be able to help the defendant win his case altogether and clear his name of any wrongdoing. Either way, he is in need of an experienced criminal defender who will fight to protect his liberty.

If you or a loved one is facing larceny charges or has been charged with entering a motor vehicle, call me today.