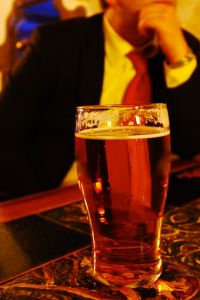 A 55 year old Northborough man was arrested on Wednesday night, April 17th after allegedly getting into a car accident on Route 9, according to an article in the MetroWest Daily News. The defendant has reportedly been charged with operating a motor vehicle under the influence of alcohol, making this his fourth time being charged with OUI.
An officer reportedly saw the defendant pulled over to the side of the road next to another car. The defendant and the other driver were standing outside of their cars, which prompted the officer to pull over and investigate the situation. The officer then allegedly smelled a strong odor of alcohol and noticed glassy, bloodshot eyes and slurred speech being exhibited by the defendant. A passenger in the other car was reportedly taken to a hospital with unspecified injuries.
The defendant reportedly told officers that he had drank some alcohol with dinner, but was inconsistent with his statements about how much alcohol and from where. The defendant also reportedly volunteered to do a field sobriety test. He allegedly did not successfully complete the commands during the sobriety test and was arrested. He was charged with operating under the influence of alcohol, driving to endanger, and driving without a license. His license reportedly expired on April 12th, 2013.
This arrest is the defendant's fourth OUI arrest. His past drunk driving arrests all occurred nearly three decades ago. One arrest occurred in 1984, and two occurred in 1986.
At Framingham District Court on Thursday, the defendant was released without bail and ordered not to drive after drinking alcohol. He is due back in court on May 20.
The defendant is facing serious penalties if convicted of this charge because this is his fourth alleged OUI offense. Penalties for OUI offenses generally increase with each conviction. Mandatory sentences also make it difficult for judges to be lenient in many cases. Despite the almost thirty year time gap between his previous three offenses and the newest alleged offense, courts will still treat this at the defendant's fourth offense, due in part to the changes brought into effect under Melanie's law.
If convicted, the defendant is facing a mandatory two year jail sentence. A portion of that sentence could be suspended, but if convicted it is mandatory that he serve at least every day of 1 year in jail. When accused of OUI 4th offense it is essential to be represented by an experienced criminal defense litigator who may be able to win the case. Prosecutors are trained to prosecute multiple OUI offenses to the fullest extent of the law, so a plea bargain is rarely an option to avoid jail time. An experienced attorney can help the defendant determine if he has potential motions to suppress evidence or to dismiss the case. Also a skilled attorney can help him determine if taking the case to trial is the right decision.

If you or a loved one is facing an OUI charge, it is essential to have an experienced Massachusetts criminal defense attorney on your side. With each subsequent OUI conviction, the penalties get more severe. If you are facing third, fourth, or fifth OUI charge, contact an attorney immediately. Contact me today for a free consultation.