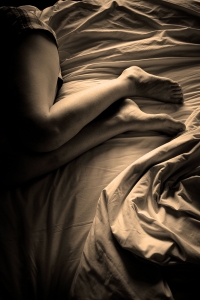 According to an article in the MetroWest Daily News, a Framingham man sexually assaulted his son's girlfriend.  The man reportedly shares his apartment with his son and the girlfriend.  According to the article, the man went into the bedroom used by his son and the girlfriend.  The girlfriend was lying on the bed and the son was in the shower.  The girlfriend claimed that after the man entered the room, he rubbed her leg and moved his hand toward her vaginal area.  The girlfriend further alleged that she yelled "no," and that the man told her that he wanted to see her [expletive].  The man then reportedly exposed his penis and left the bedroom.  The man was subsequently arrested and charged with: (1) indecent assault and battery; (2) open and gross lewdness; and (3) annoying and accosting a person of the opposite sex.
Although the allegations are serious, there are several reasons why the prosecution may have trouble proving the charges against the man.  First, as to the indecent assault and battery charge, the Commonwealth may have trouble proving that the assault was in fact "indecent."  To prove that a person has committed an indecent assault and battery under G. L. c. 265, § 13H, the Commonwealth must prove the following elements: (1) that the alleged victim was at least 14 years old at the time of the alleged offense; (2) that the defendant intentionally touched the alleged victim without legal justification or excuse; (3) that the touching was without the alleged victim's consent; and (4) that the touching was "indecent," as that word is commonly understood, measured by common understanding and practices.  Specifically, an indecent act is one that is fundamentally offensive to contemporary standards of decency.  An assault and battery may be indecent if it involves touching portions of the anatomy commonly thought of as private, such as a person's genital area or buttocks, or the breasts of a female.
While the above list of anatomical parts and areas is not exhaustive and may include other parts of the body that, if intentionally and unjustifiably touched, would violate these contemporary views of privacy, there is a serious question as to whether the girlfriend's leg would be constitute such a private portion of the anatomy.  In light of that, the man's attorney may well be able to argue that the "indecent" portion of the charge must be dismissed.
The man will need an attorney who will fight to make sure that he is not unfairly or improperly charged, and who will thoroughly investigate the case and determine whether the witnesses are in fact able and willing to testify against him.  If you or a loved one is in a similar situation, you will need an attorney to do the same for your case.  Attorney Daniel Cappetta has experience handling these types of matters and will litigate and investigate your case to the fullest.  Call him for a consultation today.