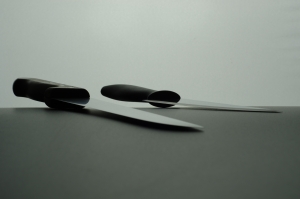 According to an article in the MetroWest Daily News, a Framingham man allegedly assaulted his daughter last week.  The article alleges that the defendant was drinking and physically attacked the daughter, including putting her in a headlock at one point.  The daughter then reportedly struck the defendant with a knife in both legs.  The defendant was ultimately charged with domestic assault and battery.
Although the daughter was not arrested and the article indicates that she was "acting in self-defense," she could still be criminally charged for cutting her father.  Specifically, the fact that she may have been acting in self-defense and could therefore raise that issue as a defense at trial does not mean that the she could not be criminally charged and potentially prosecuted for her conduct.  In light of the fact that she could potentially face criminal charges, she may decline to testify and choose to exercise her Fifth Amendment privilege, which states that a person cannot be compelled to testify if her testimony is potentially incriminating and/or could result in criminal prosecution.  The privilege is not limited to circumstances in which the Commonwealth has specifically sought charges or indicated that it intends to do so – a person can assert her Fifth Amendment privilege as long as she could face criminal charges, regardless of whether she actually will.
The defendant's daughter may be further inclined to exercise her Fifth Amendment privilege because there appears to be a question as to the strength of a self-defense claim under these circumstances. Under Massachusetts law, a person has the right to use self-defense under the following circumstances: first, if she reasonably believed she was being attacked or immediately about to be attacked, and that her physical safety was at immediate risk; second, if she used no more force than was reasonably necessary in the circumstances to defend herself; and third, if she has done that which was reasonably necessary in the circumstances to avoid physical combat before resorting to force.
In this case, there appears to be a serious question as to whether the daughter's conduct meets the second requirement: that she used no more force than reasonably necessary.  Based on the information in the article, the defendant does not appear to have had any sort of weapon himself.  Additionally, there is no indication that he was choking his daughter.  Therefore, there does seem to be room for argument about whether pulling out a knife and slicing the defendant constituted "reasonable" force.
If the daughter chooses not to testify, it is unlikely that the Commonwealth will be able to prove the case against the defendant, as she appears to be the only witness, and there is no indication that she suffered any visible injuries.
If you or a loved one has gotten into a struggle with a family member that resulted in criminal charges, you will need an attorney who has experience dealing with domestic cases, and who is sensitive to issues that arise within the family as a result.  Attorney Daniel Cappetta has handled numerous domestic cases and is well versed in both the law, and the various defenses that can be asserted.  Call him today for a free consultation.