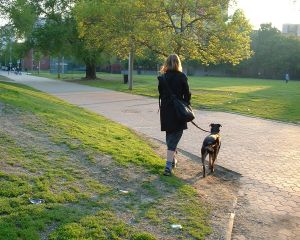 According to an article in the MetroWest Daily News, a 23 year-old Framingham woman attacked a former co-worker in Wayland earlier this year. The defendant is a professional dog walker. The alleged victim in the case was reportedly a former employee of the company, but was laid off because of a broken ankle. Following her recovery, the alleged victim began walking dogs again, but not with the same company.
According to the article, the defendant encountered the alleged victim while both were on the job in the Loker Conservation. The defendant reportedly noticed that the alleged victim was walking two dogs that belonged to former company's clients and became upset. The alleged victim specifically reported that she and the defendant got into a verbal exchange during which the defendant accused the alleged victim of depriving her of her livelihood by stealing clients. The two women then walked away from each other, but crossed paths again in the parking lot, where the defendant allegedly accused the woman of having "no morals" and then physically attacked her. The alleged victim claimed that the defendant punched her several times, scratched her, and then knocked her to the ground. The alleged victim also reported that, at one point, the defendant had her legs around the alleged victim's neck, cutting off her airway. The alleged victim stated that the defendant flipped her over with her legs and kicked her body, including her recently broken ankle, several times.
The alleged victim called the police who arrived on scene and spoke to both parties. The alleged victim showed the police a bruise on her ribs and the police saw that she had a bloody nose and several scratches on her face and body. The defendant, however, told the police that the alleged victim punched her first and that she was only trying to defend herself. The police charged the defendant with assault and battery with a dangerous weapon (shod foot) and assault and battery.
Despite the fact that she was charged, the defendant may well be able to successfully defend her case. Given the fact that there were no witnesses, the case ultimately comes down to the alleged victim's credibility. Further, it's possible that the defendant had some of her own injuries, which would also support her claim that she was acting in self-defense.
Regardless of what defenses the defendant may have, she will need a skilled defense attorney to help her present them in court, and guide her through the criminal justice system. If you or a loved one have been unfairly charged with an assault, you will likewise need the assistance of an experienced attorney. Attorney Daniel Cappetta has handled numerous assault cases and will make sure that you or your loved one get the best outcome possible. Call him for a free consultation today.