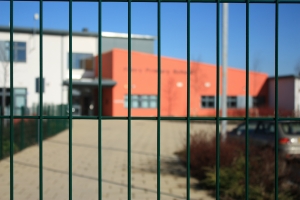 A recent article released by Citizens for Juvenile Justice details a new report about arrests in Massachusetts Schools. The report, "Arrested Futures: The Criminalization of School Discipline in Massachusetts's Three Largest School Districts," reviews arrest data from the 2007-08, 2008-09, and2009-10 school years, from Boston, Springfield, and Worcester schools. In all three districts, arrests for relatively minor misbehavior made up a substantial percentage, and in some cases the majority, of all school-based arrests
A substantial portion of those who are arrested in school are charged with public order offenses such as "disorderly conduct," "disturbing a lawful assembly" and "violating codes of conduct." These arrests are often due to behaviors associated with youthful defiance, such as talking back to teachers, refusing to sit down or comply with attempts to punish students, or writing on desks. Others are arrested for assault-related charges stemming from school yard fights.
Many schools in Massachusetts have officers on-site daily to patrol their schools. Some use officers from the town's police, while others have officers who work for the school system. While some school districts use on-site officers to apprehend students who pose a real and immediate threat to the physical safety of those around them, others schools use these officers to mostly enforce their code of student conduct. Officers are often encouraged to arrest students, in many cases using public order offenses as a justification. These officers mostly arrest students who are unruly, disrespectful, use profanity, or show "attitude."
In Massachusetts all seventeen year olds are automatically treated as adults for all offenses. Because of this law, an arrest can also mean the creation of a permanent, adult criminal record. It can also lead to incarceration alongside adult criminal offenders. Your child could be arrested at school for minor disruptive behavior; if your child is seventeen years old or older, your child could then have an adult criminal record from that and maybe even incarceration. These charges could have grave consequences for your child's future.
These policies are causing more children and young adults to be arrested than would be if police were not so heavily present in schools. Infractions that would normally be a trip to the principal's office or after-school detention are now a trip to jail and an appearance in court. These policies are worsening the "school to prison pipeline" that plagues our youth. Protecting children from being convicted of offenses, and especially from spending time incarcerated, is important to insure our children have a bright future and a clean criminal record.
If your child has been arrested, you'll need a skilled and experienced Massachusetts criminal defense lawyer on your side. In addition to my experience defending adults in Massachusetts Courts, I have experience defending children in the Massachusetts Juvenile Courts.
If your child is facing criminal charges or is being investigated, you need an attorney that has extensive experience in the Juvenile Court System. As a former Prosecutor in the Middlesex County District Attorney's Office, I have handled countless juvenile court cases and use this knowledge and experience in the Juvenile Court System to successfully fight for your child.

Contacting an attorney as soon as you begin to experience involvement with police may help in defending your case if you are actually charged. Contacting a lawyer during an investigation can sometimes stop charges from going forward at all. If your are in need of a Massachusetts juvenile criminal defense lawyer, call Attorney Cappetta today.