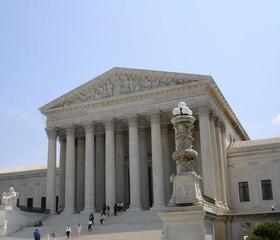 In Nieves v. Bartlett, the United States Supreme Court ruled, in the context of a civil suit pursuant to 42 U.S.C. §1983, that "probable cause to make an arrest defeats a claim that the arrest was in retaliation for speech protected by the First Amendment."
The background was as follows. "Respondent Russell Bartlett sued petitioners — two police officers — alleging that they retaliated against him for his protected First Amendment speech by arresting him for disorderly conduct and resisting arrest." "Bartlett was arrested [by Sergeant Nieves and Trooper Weight] during 'Arctic Man,' a weeklong winter sports festival held in" Alaska and "known for both extreme sports and extreme alcohol consumption." Nieves was the first of the officers to encounter Bartlett. "Nieves was asking some partygoers to move their beer keg inside their RV…. According to Nieves, Bartlett began belligerently yelling to the RV owners that they should not speak with the police…. Bartlett was highly intoxicated and yelled at [Nieves] to leave…. Several minutes later, Bartlett saw Trooper Weight asking a minor whether he and his underage friends had been drinking. According to Weight, Bartlett approached in an aggressive manner, stood between Weight and the teenager, and yelled with slurred speech that Weight should not speak with the minor. Weight claims that Bartlett then stepped very close to him in a combative way, so Weight pushed him back. Sergeant Nieves saw the confrontation and rushed over, arriving right after Weight pushed Bartlett. Nieves immediately initiated an arrest, and when Bartlett was slow to comply with his orders, the officers forced him to the ground." Bartlett was charged with disorderly conduct and resisting arrest, but the State ultimately dismissed the charges. "Bartlett then sued the officers under 42 U.S.C. §1983, which provides a cause of action for state deprivations of federal rights…. [H]e claimed that the officers violated his First Amendment rights by arresting him in retaliation for his speech. The protected speech, according to Bartlett, was his refusal to speak with Nieves earlier in the evening and his intervention in Weight's discussion with the underage partygoer. The officers responded that they arrested Bartlett because he interfered with an investigation and initiated a physical confrontation with Weight. The [federal] District Court granted summary judgment for the officers…. The Ninth Circuit disagreed" and the officers sought certiorari.
In its decision affirming the grant of summary judgment for the officers, the Supreme Court opined that Bartlett's "retaliatory arrest claim fails as a matter of law" "[b]ecause there was probable cause to arrest [him]." The Court noted that "'as a general matter the First Amendment prohibits government officials from subjecting an individual to retaliatory actions' for engaging in protected speech. Hartman v. Moore, 547 U.S. 250, 256 (2006). If an official takes adverse action against someone based on that forbidden motive, and 'non-retaliatory grounds are in fact insufficient to provoke the adverse consequences,' the injured person may generally seek relief by bringing a First Amendment claim. Ibid….To prevail on such a claim, a plaintiff must establish a 'causal connection' between the government defendant's 'retaliatory animus' and the plaintiff's 'subsequent injury.' Hartman [] at 259. It is not enough to show that an official acted with a retaliatory motive and that the plaintiff was injured — the motive must causethe injury. Specifically, it must be a 'but-for' cause, meaning that the adverse action against the plaintiff would not have been taken absent the retaliatory motive. Id.,at 260." "'[E]stablishing the existence of probable cause will suggest that [an arrest] would have occurred even without a retaliatory motive.' Id., at 261." "In light of the foregoing," the Court concluded that "Bartlett's retaliation claim cannot survive summary judgment." That is because Bartlett's allegedly belligerent behavior gave the officers probable cause to arrest him, thus vitiating his contention that the officers acted solely in retaliation for his exercise of his First Amendment rights.
Although the outcome of this case is disappointing, it illuminates concerns that frequently arise between criminal defendants and the police.  All too often, defendants are charged with resisting arrest, disorderly conduct, and/or assault and battery on a police officer, despite the fact that the basis for the charges appears to be rooted in some perceived disrespect by the defendant toward the officers rather than true criminal conduct. If you or a loved one is similarly charged, you will need an experienced attorney to help challenge the validity of the arrest and potentially expose the charges as retaliatory.  Attorney Daniel Cappetta has successfully helped many clients charged with such offenses and never shies away from challenging police conduct. Call him today for a free consultation.