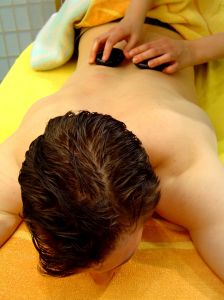 A Cambridge woman is facing one count of sexual conduct for a fee after she allegedly offered to perform a sex act for a fee to an undercover police officer, according to an article in the MetroWest Daily News. Officers reportedly performed a sting operation around 7 p.m. Wednesday, December 12th at the woman's place of employment, where she worked as a massage therapist, police said.
The woman was released on personal recognizance after being arraigned at Framingham District Court.
Sudbury Police reportedly received an anonymous tip December 6th that the business was listed on a website that lists erotic Asian massage parlors. An officer reportedly made an appointment for 7 p.m. and met the woman. After about fifteen minutes into the massage, the woman and the officer allegedly started talking about a fee. They allegedly negotiated a price for sexual favors. The woman allegedly never stated explicitly what she would do for the negotiated price, but gestured with her hand in a way that the officer reportedly interpreted as being an agreement to perform a sexual act. The officer then reportedly arrested the woman.
The woman has been the only person charged in connection with the business; however, police reportedly stated that the investigation is ongoing.
Officers reportedly seized a laptop and cell phone at the time of the woman's arrest. The woman's attorney is reportedly arguing that these items were seized without a warrant and should be returned to his client. However, Judge Greco sided with the prosecution in allowing them to retain the items but ordered then to not search the items without a warrant. The woman's attorney may have luck trying to get any evidence suppressed that is collected before prosecutors secure a warrant. The woman is due back in court January 15th.
In order to prevail on the sexual conduct for a fee charge, the prosecutors will have to prove beyond a reasonable doubt that the woman either engaged, or agreed to engage, or offered to engage, in sexual conduct with another person; and that the sexual conduct was done, or going to be done, in return for a fee. If convicted of sexual conduct for a fee, the woman is facing the possibility of a jail sentence for up to a year and up to $500 in fines.
The woman is facing serious implications from this charge. A conviction of a sex crime can seriously impede a person's professional and personal life. Additionally, it can have immigration implications. However, this charge is a misdemeanor charge that she may have an ability to overcome, especially if this is her first time being involved in the criminal justice system. She may have luck trying to get any evidence from the phone and computer suppressed. Additionally, an anonymous tip is a relatively weak piece of evidence for police to bring against a defendant. Also, the woman could argue that she never made any explicit statements or implicated herself in any way that the officer could be certain about. Anyone facing sex crime charges needs a skilled and capable Massachusetts criminal defense lawyer fighting for him or her.

If you are facing sex crime charges, contact me at Cappetta Law Offices today.