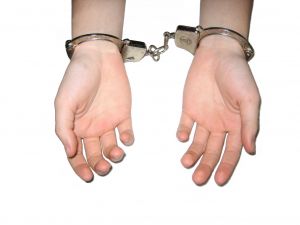 According to an article in the MetroWest Daily News, a Framingham woman was arrested Wednesday, December 19th at 11 p.m. after an alleged attack on her boyfriend. The boyfriend was also for allegedly shoving the woman.
Police charged the woman, with assault and battery with a dangerous weapon–a stool–burglary during the night with an armed assault, and malicious mischief causing more than $250 worth of damage.  The boyfriend was charged with assault and battery.
Police reportedly received two 911 calls around 8:30 p.m. after a fight at 7 Taylor St., Framingham. The woman reportedly told police that her boyfriend had assaulted her. Police arrested the boyfriend. He then reportedly told police about a violent attack on him committed by the woman, which another man allegedly witnessed.
The boyfriend was allegedly at his apartment drinking with a friend when his girlfriend came over. The woman allegedly thought that her boyfriend was cheating on her and reportedly arrived at his home screaming and forced her way into his apartment. She also reportedly knocked down a wall to his living room when he locked himself inside. The woman allegedly broke a television by throwing it on the floor, dumped a case of beer on the floor, and broke a stool over her boyfriend's body.
The woman reportedly denied the boyfriend's allegations and told police that she cut her finger when the boyfriend repeatedly shoved her. She also allegedly denied trashing the boyfriend's apartment.
Both the woman and her boyfriend were reportedly released without bail. However, the boyfriend was reportedly taken into federal Immigration and Customs Enforcement custody because authorities had a detainer warrant for him. Both the woman and her boyfriend are both due back in court on January 11th for a pretrial conference.
The woman is facing serious felony charges, including assault and battery with a dangerous weapon and burglary with an armed assault. To prove the charge of burglary during the night with an assault, prosecutors will have to prove that the woman broke into a person's house, entered the house, did so with the intent to commit a felony, either entered the home armed or became armed with a weapon while in the residence and assaulted someone, and that she did so in the nighttime. Prosecutors will have to prove each of these elements beyond a reasonable doubt. The woman is facing a mandatory minimum sentence of no less than 15 years if convicted of burglary with an armed assault. If she is able to get the armed assault during the burglary reduced to assault on someone occupying the residence, she is facing a minimum of 10 years for a first offense. If the woman has been convicted of a similar crime in the past, she is facing even harsher penalties.
The boyfriend is facing assault and battery, which is a misdemeanor charge; however, he is apparently facing immigration issues. A conviction can seriously impact a person's immigration status.

Both the woman and her boyfriend are in need of skilled representation to protect their records. If you are facing charges of assault and battery, burglary, or other criminal charges, contact me at Cappetta Law Offices today for a free consultation. Call Cappetta Law Offices at (508) 762-4540.