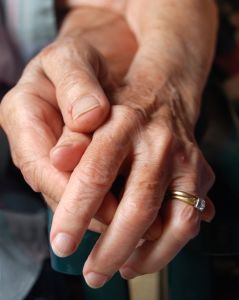 A unique case from Framingham District Court came to my attention on Tuesday. According to an article in the MetroWest Daily News, an 84 year-old man from Holliston was arrested for an alleged attack on his 86 year-old wife. The article, written by Norman Miller, stated that Holliston police went to the man's home early Sunday morning. The alleged victim had reportedly called 411 seeking police assistance. The 411 operator then called the Holliston police.
When they arrived at the home, police officers could hear a woman's voice saying "stop." The police entered the house and met the victim, who is blind and uses a walker for assistance. The alleged victim told police that her husband had been hitting her throughout the night and had tried to strangle her. According to the article, the husband spoke with police about the incident at the police station and admitted to hitting his wife and forcing her to stay seated in a chair by holding her neck. The husband allegedly told police that he committed the assault "because [his wife] wouldn't stop talking." He told them he lost his temper. The husband was charged with attempted murder, assault and battery on an elderly person and witness intimidation.
As a Holliston domestic violence attorney, I have represented clients charged with assault and battery in domestic violence type situations. Domestic violence cases present greater challenges than those assault and battery cases which take place between people who do not live together. This is because in a domestic violence case, victim and defendant most likely have a close family relationship. These cases may bring to light, in a very public setting, a couple or family's private arguments or difficulties and can be emotionally painful for both victim and defendant. This particular case serves to highlight the difficulties facing those who care for the elderly and infirm, and how those stresses can build to a breaking point.
The husband is charged with assault and battery on a person over the age of 65. This is a special charge in the Commonwealth of Massachusetts based upon the age of the alleged victim. He is also charged with attempted murder, most likely based upon the allegation that he tried to strangle his wife. The case is unusual because of the age of both the alleged victim and defendant. In addition to the usual stresses of a domestic violence case, it appears that the husband provides care for his wife due to her age and condition. Since he was ordered to stay away from the house, it appears he will be unlikely to do that for the time being.

In any case where someone is arrested following a domestic violence incident, it is important to have experienced legal counsel. As a Framingham criminal defense attorney, I have experience representing clients in domestic violence and assault and battery situations. I understand how sensitive these matters are for everyone involved. If you or anyone you know has been arrested for a domestic violence situation, contact me for a free consultation about your case. You can reach me using the form on this website or by calling me at (508) 762-4540.