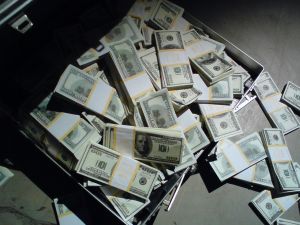 A Marlborough man was arrested on Friday, December 7th on charges of unarmed robbery and destruction of property, according to an article in the MetroWest Daily News. The man, who is 36 years old, allegedly handed a bank teller a note stating that he was robbing the bank and that the teller should give him money. The teller allegedly complied but attached a GPS tracker to the money. The man was arrested approximately 10 minutes after the 9:04 a.m. robbery at the St. Mary's Credit Union on Northboro Road in Marlborough.
Police allege that the man threw the GPS tracker out of his window but that officers pulled him over about a mile from the bank after noticing money stacked on the passenger seat in his vehicle. Officers found the GPS tracker broken on the ground, which led to the destruction of property charge.
Police allege that the man admitted to committing the robbery after he was taken into custody. The man is reportedly on probation for armed robbery convictions and he reportedly served two years in prison for a bank robbery in Cambridge in 2007. He was also convicted of a bank robbery in Dedham in 2008. A warrant for the man's arrest was reportedly issued earlier in the week in Middlesex Superior Court due to his failure to appear for a probation hearing. The man is currently is being held without bail pending a hearing on Tuesday to determine if he is a danger to the public.
Prosecutors will have to prove that the man robbed the bank without a weapon, that he did so by using force or violence by assault or putting the teller in fear, and that he stole property that may be the subject of larceny to prevail on the charge of unarmed robbery. If the man is convicted of unarmed robbery, he could be facing up to life in prison.
The man is facing serious charges that could lead to imprisonment ranging from a few months up to life. Fortunately for the man, he did not have a weapon. If he used a weapon to rob the bank, he would likely be facing armed robbery charges. An armed robbery conviction would lead to a minimum punishment of five years in prison or a maximum punishment of life in prison. Unarmed robbery does not have a mandatory five-year minimum sentence like armed robbery. However, because the man has been convicted of similar crimes in the past and is on probation, a judge is less likely to give him a light sentence if he is convicted this time.
The man could fight this case by arguing that the police did not have probable cause to pull him over just for seeing money on his passenger seat. However, he is facing tough odds in this case. He needs an experienced Massachusetts criminal defense attorney to fight this case.

If you or a loved one is facing charges of unarmed robbery, contact Attorney Cappetta today. Attorney Cappetta is a dedicated and experienced Massachusetts criminal defense attorney who offers all prospective clients a free consultation. Call him today to find out how he may help you achieve the best result for your situation.