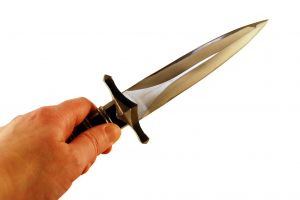 According to an article in the MetroWest Daily News, two men have been arrested following a stabbing in Framingham on Saturday, December 1, 2012. The men were charged with attempted murder and two counts of assault and battery with a dangerous weapon.
These charges stem from the men's alleged stabbing of a man in the bicep and a woman in the chest, following an altercation. The female victim reportedly nearly died after being stabbed; she allegedly identified one of the defendants as the man who stabbed her and her boyfriend.
The defendants reportedly drove away from the scene in a minivan and were pulled over by Holliston Police around 4:00 a.m. Police report that one of the defendants had a cut on his face and that there was blood on the dashboard and on the other defendant's shoes. Police reportedly searched the car and found a bloody knife in the glove compartment.
The defendants were reportedly not cooperative with police; they allegedly refused to answer police questions, swore at police, and laughed at the situation. They allegedly did tell police a few things about themselves, though. Police report that the defendants told officers to Google their names to find out how bad they were and that they had been to jail and were gang members who beat women.
The MetroWest Daily News article reports that the defendants are members of the Outfitters gang. Both men are also reportedly on probation after they were found guilty of armed robbery.
One of the defendants was denied bail after a judge decided he was too dangerous to be released to the public at a dangerousness hearing. The other defendant was given a $15,000 bail at a dangerousness hearing. Both are due back in Framingham District Court on January 4 for a pretrial conference.
The defendants are facing very serious charges and have a lot at stake in this case. Allegations of gang involvement and the report that they are already on probation make this situation particularly serious. To prove the attempted murder charge, prosecutors must prove that the defendants 1) harbored a specific intent to kill and (2) committed an overt act with malice. An overt act is one that a person would reasonably believe would result in a desired outcome, in this case murder.
A possible defense in this situation is to discredit the eyewitness identification of the defendants. The defense attorneys have reportedly been using this defense already. The attorneys have reportedly said that the only person who identified the men is the female victim, whom the attorneys claim was drunk and high on cocaine. The attorneys are claiming that her identification is not reliable because of the substances in her system. Another defense offered by their attorneys is that attempted murder can only be charged in connection with an attempt to drown, poison, suffocate, or strangle and cannot be charged in connection with a stabbing. One of the defendant's lawyer has also reportedly said that there is no evidence to connect his client with the crime.

If you or a loved one is facing attempted murder or assault and battery charges, you need an experienced Massachusetts criminal defense attorney. Contact Attorney Cappetta today.